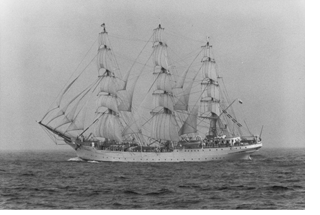 During that time, the Department of the U.S. Air Force, by invitation of the Secretary, invited Van Alstyne to visit and illustrate air bases and commands around the world. In 1968, he was commissioned to do a portrait of President Lyndon Johnson, and in 1975 he presented a painting at the White House for President Gerald Ford.

In 1976, Van Alstyne was invited to take part in the U.S. Bicentennial celebration Opsail '76. He sailed aboard the 295' USCG training barque Eagle from Newport to New York City, and then on the Hudson River in the July 4th Tall Ships Parade to capture the color and excitement of the occasion with his art.
Again in 1984, Van Alstyne traveled to Quebec as a guest of the U.S. Coast Guard to photograph and illustrate the splendor of the tall ships event which included the Eagle at Quebec City's 450th Celebration.
In 1986, by invitation of the U.S. Government, Van Alstyne again sailed aboard the Eagle with celebrated journalist and anchor Walter Cronkite and went on to produce a limited-edition print of the Statue of Liberty. The print was used for fund raising purposes.
In August of 2000, while President Clinton and his family were visiting Skaneateles, Van Alstyne presented the first family with a signed print of the village. The President, his wife and daughter promptly signed it and returned it to Van Alstyne. It now hangs at the Sherwood Inn in Skaneateles, NY.
Van Alstyne is an accomplished watercolorist, but he also works in acrylic and photography. Being a versatile artist his work fits no one category. Throughout his career Van Alstyne's work has grown in magnitude. He applies his talent to industry and business, using quality graphic design for the needs of the modern business world. He is a master of his craft and feels that original art is always in demand.
Van Alstyne has been commissioned by many colleges and universities to create prints and posters that capture the architecture and overall atmosphere of the various campuses.
His work is included in many private collections in both the United States and abroad, as well as in the permanent collections of the Pentagon and White House in Washington, D.C.